It's Christmas time (almost) and that means a whole new assortment of movies to challenge Star Wars: The Last Jedi. But with Christmas on a Monday, it's bound to mess with releases in theaters. So this week we have 2 major movies releasing on Wednesday with an additional THREE coming out on Friday. So be prepared for a busy week of shopping, family activities, and a very strange box office week.
The Greatest Showman
– In Theaters December 20th. If you've been shopping with Amazon over the holidays you might have seen the bright red boxes promoting the The Greatest Showman. If you haven't then The Greatest Showman is about the life of P.T. Barnum as he creates "Show Business" and starts the circus that would eventually become Ringling Bros. and Barnum & Bailey Circus (which sadly recently shut down for good). Please note that while The Greatest Showman is based on a true story of P.T. Barnum, even the summary of the movie says "Inspired by the imagination of P.T. Barnum" which I think is a whole new level of being removed from the truth.
– Stars Hugh Jackman, Ellis Rubin, Ziv Zaifman, Zac Efron, Michelle Williams, Skylar Dunn, Rebecca Ferguson, Loren Allred, Zendaya, Keala Settle, Yahya Abdul-Mateen II, Austyn Johnson, Cameron Seely, Daniel Everidge, Sam Humphrey, Shannon Holtzapffel, Paul Sparks, Gayle Rankin, and Will Swenson. Directed by Michael Gracey. Rated PG.
Jumanji: Welcome to the Jungle
– In Theaters December 20th. Though Jumanji: Welcome to the Jungle officially is released on December 20th, it had previously been released earlier this month in special screening around the country from Amazon to Prime members for one night only. Jumanji: Welcome to the Jungle starts right after the first movie where the board game was trapped in the sand. But as they say, "the game has changed" and in this case literally. After being ignored as a board game (though apparently ignoring board games new resurgence), the cursed game reforms itself into a video game in 1996. In present day, four high school kids sentenced to detention find the game while cleaning up a basement for detention. They are sucked into the game embodying the new avatars that they chose with new powers and weaknesses. They must beat the game in order to escape and see the world that Alan Parrish (Robin William's character in the first movie) lived in 20 years ago or die trying.
– Stars Dwayne Johnson, Jack Black, Karen Gillan, Kevin Hart, Nick Jonas, Bobby Cannavale, Rhys Darby, William Tokarsky, Alex Wolff, Madison Iseman, Ser'Darius Blain, Morgan Turner, Marc Evan Jackson, Mason Guccione, Colin Hanks, Sean Buxton, Tim Matheson, Sylvia Jefferies, Virgina Newcomb, Maribeth Monroe, and Missi Pyle. Directed by Jake Kasdan. Rated PG-13.
Pitch Perfect 3
– The Bella have graduated college after winning the world championship and have gone their separate ways, trying to survive in the real world which isn't quite going as well as they planned. But they all leap at the chance to reunite and compete one last time for an overseas USO tour but realize that in this competition, they are going to have to face people who actually have instruments.
– Stars Anna Kendrick, Rebel Wilson, Hailee Steinfeld, Brittany Snow, Anna Camp, Hana Mae Lee, Ester Dean, Chrissie Fit, Alexis Knapp, Kelley Jakle, Shelley Regner, John Michael Higgins, Elizabeth Banks, John Lithgow, Ruby Rose, Matt Lanter, Andy Allo, Guy Burnet, and DJ Khaled. Directed by Trish Sie. Rated PG-13.
Downsizing
– Scientists discover how to shrink humans down to five inches tall that's touted as a solution to overpopulation and environmental problems. The only drawback is that the change is permanent. However it's viewed as a potential way to live an easier life as the assets of the normal sized are increased when being small. Paul plan to move to a downsized community with his wife, which doesn't quite go according to plan and then gets more complicated as time goes on.
– Stars Matt Damon, Christoph Waltz, Hong Chau, Kristen Wiig, Jason Sudeikis, Maribeth Monroe, Udo Kier, Rolf Lassgård, Ingjerd Egeberg, Søren Pilmark, Margo Martindale, James Van Der Beek, Niecy Nash, Donna Lynne Champlin, Don Lake, Harrison Ford, Neil Patrick Harris, Laura Dern, Brigette Lundy-Paine, and Joaquim de Almeida. Directed by Alexander Payne. Rated R.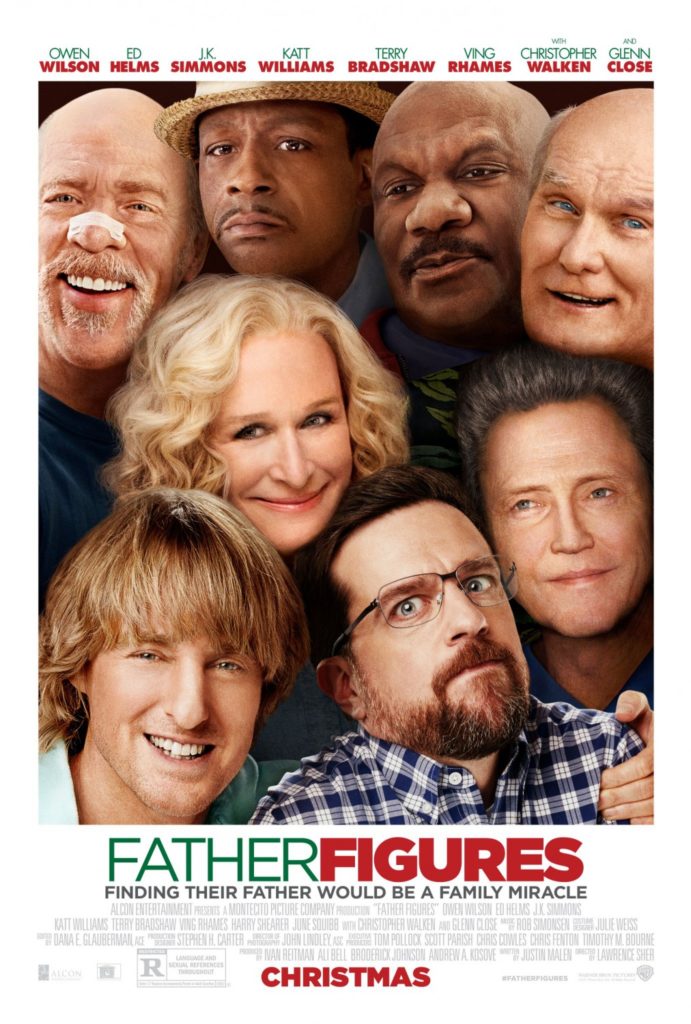 Father Figures
– Fraternal twins (meaning born at the same time but from different eggs which in this case I assume is to explain how the stars look nothing alike) discover that their kooky mother had lied to them about their father dying when they were young and that she had previously slept with many rich and famous men in the 1970s. They decide to go on a road trip to find out their past and about their mother than they had anticipated.
– Stars Owen Wilson, Ed Helms, J. K. Simmons, Katt Williams, Terry Bradshaw, Ving Rhames, Harry Shearer, June Squibb, Christopher Walken, and Glenn Close. Directed by Lawrence Sher. Rated R.