Note: The movies this week come out on Wednesday due to the holiday.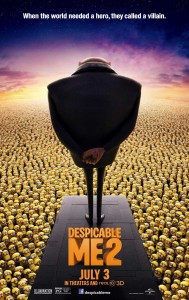 Despicable Me 2
– In this sequel to Despicable Me, Gru is now a reformed villain and father to the girls that he adopted. He is recruited by Lucy Wilde and the Anti-Villain League to go against El Macho and try to capture him. Already a prequel has been green lit and there are hints of it at the end of the movie supposedly. Make sure you stay through the credits (Which you should be doing anyway).
– Stars Steve Carell, Kristen Wiig, Benjamin Bratt, Miranda Cosgrove, Russell Brand, Steve Coogan, and Ken Jeong. Directed by Chris Renaud and Pierre Coffin. Rated PG.
The Lone Ranger
– Another team up with Gore Verbinski and Johnny Depp trying to make another hit. (Which I'm surprised that they were alright with Depp playing a Native American but okay…) This time it's a stab at the Lone Ranger, who is a Texas Ranger that has to hide his identity after he was attacked. He and his companion Tonto team up to try to bring down the bad guys.
– Stars Johnny Depp, Armie Hammer, Tom Wilkinson, William Fichtner, Barry Pepper, Ruth Wilson, James Badge Dale, and Helena Bonham Carter. Directed by Gore Verbinski. Rated PG-13.