With Halloween this week, I figured I'd take a break in reviewing anime to review about some festive limited edition snacks!
Poptarts
I'm a sucker for Poptarts already and I know it's bad. I'm at least pretty good at not allowing myself to have them all the time and treat them more as a dessert than a breakfast pastry.  The Pumpkin Pie flavor when toasted is very much like eating a pumpkin pie with more crust than pumpkin with solidified frosting than whipped cream. I typically like my Poptarts raw, but this is one instance where it's definitely worth putting in the toaster for a few seconds.
M&Ms
These were a bit of a disappointment. The size and consistency reminds me of the peanut butter ones as they are fatter and contain more chocolate filling. The pumpkin spice is incredibly faint it just seems like a sweetened, fattened plain M&M.
Oreos
Zach and I have become hunters of the limited edition flavored Oreos and we learned that Pumpkin Spice was to be a flavor, we flipped out and searched. The cookie part is a vanilla gram with obviously the cream being pumpkin spice flavor. The flavor is a perfect balance of the cream and cookie.
Pumpkin Spice Cinnamon Rolls by Pillsbury
These are rolled and prepped the same as regular cinnamon rolls. There is still some slight cinnamon, but pumpkin is definitely infused! And as always, cream cheese frosting.
Muffie from Panera Bread

For the person that loves only the top of a muffin, comes the Muffie. Really it taste like a pumpkin cake cookies, but still delicious and moist!
Bagel from Panera Bread (photo not available as product comes after Halloween)

Pumpkin baked and sugar glazed throughout, this bagel is delicious plain or with a side of cream cheese frosting.
Krispy Creme Pumpkin Cheesecake Doughnut

One is a lot like the bagel in consistency, but technically the cake doughnut style. Served with a slight glaze. Their other version is a cream cheese filled donut with nutmeg on top!
Pumpkin Pie Blizzard
Somehow their vanilla ice cream was flavored to basically taste exactly like a blended up piece of pumpkin pie and some how isn't a Pie Shake. It has bits of square grahams mixed in with the pumpkin flavored ice cream.
Spiced Pumpkin Pecan Bluebell Ice cream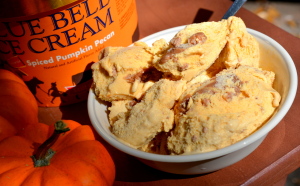 Out of the list, I think this ice cream is my favorite. Bluebell is a Texas native treat and we've sampled a lot of their flavors. We saw the gallon size and kind of frowned wondering if we'd like it since there were candied pecans inside and wished there was a half or single serve. … We ate the thing in a week! The color itself is pumpkin orange and the pecans surprisingly complimented the spice flavor nicely.
Oh, and we can't forget about Fried Pumpkin Pie from the Texas State Fair!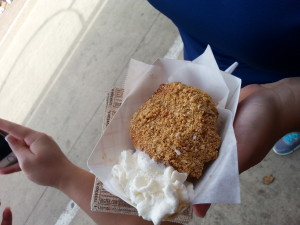 And while writing this, I discovered that Trader Joe's has their sandwich cookie Jo-Jo's in Pumpkin Spice flavor! :O MUST BUY A BOX.